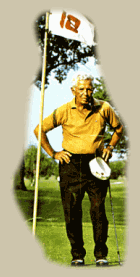 Bill Diddel, a native Hoosier, is one of America's great golf architects yet much of his work is relatively unknown. He was a Charter Member of the American Society of Golf Course Architects.

Bill was born in 1884. The first time he watched people playing golf was sometime before 1900 while standing on a hill that overlooked what was then Indianapolis Country Club (now the Woodstock Club). He became a very good player, winning the City Amateur as a senior in high school. As a freshman at Wabash College in 1905, he won the first of five State Amateur titles. Over his lifetime, he shot at or under his age more than any other known player in history. In his middle eighties, Bill still occasionally scored in the seventies.

Bill got his start designing golf courses by finishing a new course for Highland Country Club, of which he was a member. The first course he designed was Ulen Country Club in Lebanon, Indiana. He worked on more than 250 courses, mostly in the Midwest. Many of his courses are in small towns but he always felt an obligation to promote the game to people of all walks of life, especially in his home state of Indiana.

Bill was a master at routing a golf course, using the natural terrain to provide definition and strategy. His green designs were creative and difficult yet fair; they were integral in the strategy of each hole as well as the entire sequence of holes. This mastery of design can be seen on every hole at Royal Oak Country Club. Interestingly, Bill designed Kenwood Country Club and Royal Oak Country Club 33 years apart. Kenwood Country Club was established in 1930 and Royal Oak in 1963.

In 1928 Bill purchased 168 acres in Hamilton County, Indiana. He owned it through the Depression. In 1951, he designed and built Woodland Golf Course. Originally the course was to have no bunkers; only contours would provide strategic components of the course. Woodland was his pride and joy; Bill and his wife lived in a log cabin near the 12th tee. The course was originally public. In 1954 he leased it to Woodland Country Club, but unfortunately the country club and golf course no longer exist today.

Important Dates in Bill Diddel's Life

1884 Bill Diddel was born in Indianapolis

1900 Bill saw his first game of golf from atop Crown Hill Cemetery. He saw a group playing on the former Country Club of Indianapolis (CCI) which is now Woodstock Club. Later that year he caddied for Alex (Sandy) Herd who was to win the British Open in 1902.

1902 Bill scores a hole-in-one on Christmas Day.

1903 Bill won his first tournament, the Indianapolis City Amateur, a title that he won five times which is a record which still stands.

1905 Bill wins the Indiana Amateur Championship.

1906 Bill wins the Indiana Amateur Championship. In basketball, Bill scores 14 points at Bloomington as Wabash University defeats IU 29 to 21 on February 5th, and in the return game at Crawfordsville, Wabash won 29 to 9.

1907 Bill wins the Indiana Amateur Championship and Wabash beats IU twice, 37 to 24 and 43 to 20 as Bill contributes a dozen points. Wabash was undefeated during Bill's playing years except for a one point loss to Purdue. He was an All-State his junior year and All-Western his final year. He was the first four sport (basketball, football, baseball and track) letterman at Wabash.

1908 Bill was the captain of the Wabash baseball team.

1910 Bill wins the Indiana Amateur Championship.

1912 Bill wins the Indiana Amateur Championship.

1927 Bill wins the CCI Championship.

1928 Bill wins the CCI Championship and purchases 168 acres of gently rolling farmland east of US 431.

1930 Bill wins the CCI Championship and is runner-up in the Indiana Amateur Championship.

1935 Bill scores a hole-in-one in Memorial Day.

1947 Bill attends the first meeting of the ASGCA in Pinehurst with William P. Bell, Robert White, W.B. Langford, Donald Ross, Robert Bruce Harris, Stanley Thompson, William F. Gordon, Robert Trent Jones, Sr., and J.B. McGovern. Of the original founders of the ASGCA unable to attend the first meeting: Perry Maxwell, Jack Daray and Robert "Red" Lawrence.

1948 Bill designs Northwood CC in Dallas, the future site of Julius Boros' first US Open victory.

1951 Bill designs a course on his acreage near Carmel with contoured green, narrow approaches and now bunkers to make it one of the toughest in the Indianapolis area.

1953 Bill opens Woodland for public play. His home, a log cabin is located near the twelfth tee.

1954 Bill is President of the ASGCA

1955 Bill wins Woodland Club Championship and shoots his age for the first time with a 70 at Daytona Beach.

1963 Bill designs and creates Royal Oak Country Club.

1964 Bill shoots five strokes below his age with a 75 at Woodland CC, wins USGA Seniors age group title with 84 - 77 at Apawamis and shoots 69 at Pinehurst No. 5.

1965 Bill is President of the ASGCA

1966 Bill beats his age 77 times at the age of 81.

1969 Bill wins low net qualifying medal with rounds of 81 - 79 in American Seniors.

1970 Bill is honored by the American Seniors Hall of Fame along with Chick Evans, Dwight Eisenhower, Robert T. Jones and Francis Ouimet. Bill shoots 74 at the age of 86 at the Country Club of Naples, Florida which was noted in Ripley's Believe It or Not!

1971 Bill shoots his age for the 1,261st time.

1978 At 93 years of age Bill scores his 7th hole-in-one at Royal Ponciana CC in Naples, Florida on New Years Day, tying the all-time record of oldest man to score a hole-in-one.

1979 Bill makes Golf Digest all-time hole-in-one record book.

1985 Bill passes away on February 25, 1985 at Christian Retirement Park, Zionsville, Indiana.

2001 The existing course at Woodland CC, where Bill made his home, was abandoned. Part of the original property purchased by Bill is sold for commercial development (restaurants, retail and offices). A golf course is constructed with no regard for Bill's original design.

April 6, 2005 - Purgatory Golf Club in top 100 public golf courses in the USA. Added new satellite photo of Pebble Brook North.

May 14, 2004 - Added Cattails GC

February 28, 2004 - Purgatory GC #1 Public Access Golf Course in Indiana.