2017 Comments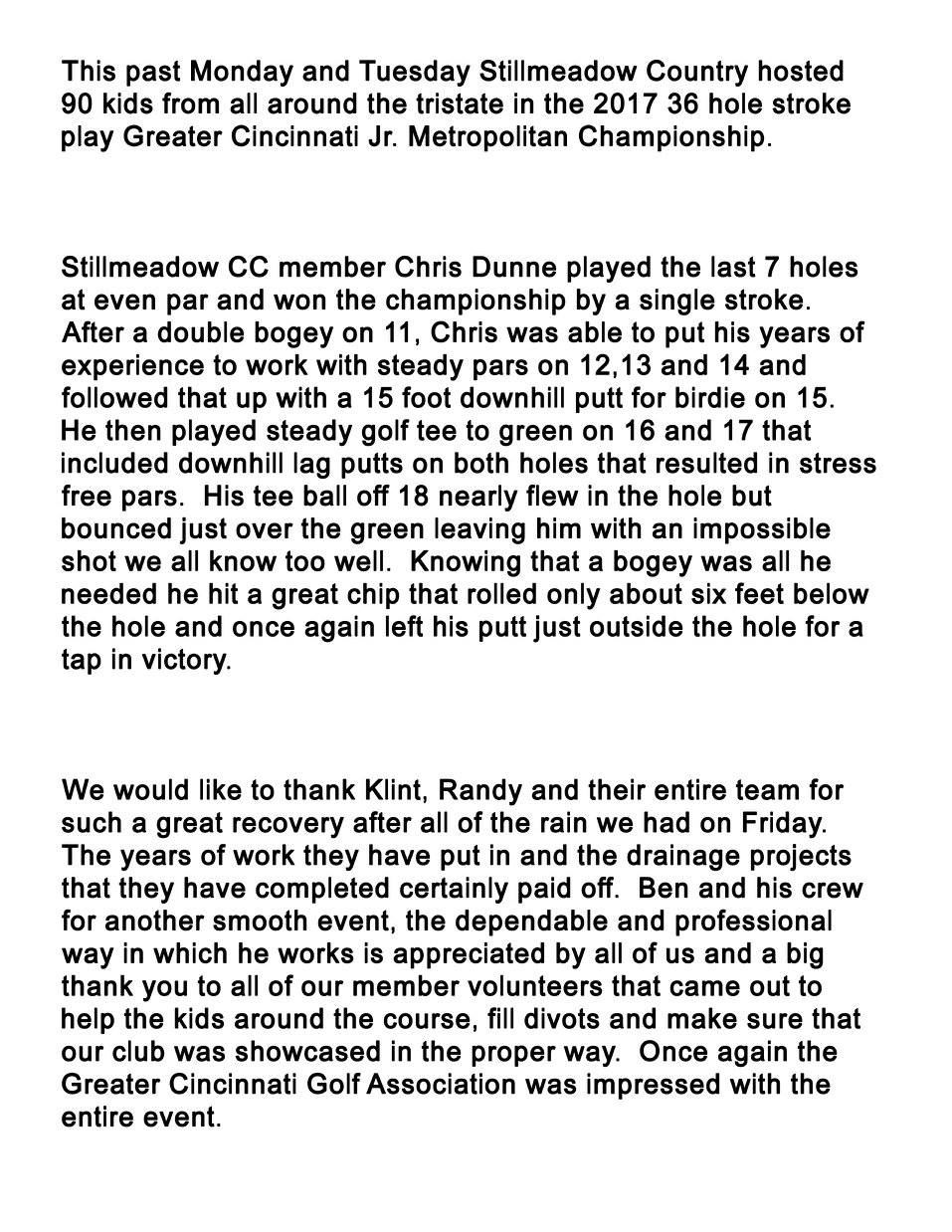 > Jeff, Ben, Vickie & Tracey,
>
> Guys - I just left a phone message for Tracey to tell her that I
> have just accepted a job in Austin, Texas.
> We will be moving there in the next couple of months.
>
> Thus - we are terminating our membership at the end of March. I am
> writing to provide the news, but also
> Providing a huge thank you - Sandy and I have thoroughly enjoyed our
> time at the country club, and wish you Guys the very best.
>
> Regards, and we may see you this weekend on the course.
>
> Steve Rogier
"HOLIDAY SEASON COMMENTS FROM MEMBERS AND FRIENDS OF STILLMEADOW, 2016"
Vickie-
Everything was absolutely beautiful!
Merry Christmas!
...
Dawn Spitznagel
Office Manager
Landmark ATMS
Vickie-
The luncheon was great-the room was decorated very nice-thanks for you help.
Esther Killen
Vickie-
Everything was perfect! The place looks beautiful. Zane did an awesome job with the food. Amy and the servers were terrific too. Love having Stillmeadow CC right in our backyard.
Michele Norton
Vickie-
Our company dinner was awesome. We had a great time. The food and the service was amazing. The club looks great. Thank you for hosting our events.
Amy Wallace
Hi Vickie-
We had a great time on Friday and everything was very nice as usual. We appreciate the efforts of you and your staff.
Thanks,
...
Kim Egan
Anderson Hills Pediatrics
Stillmeadow Holiday Party 2016
WANT TO SEND OUT A BIG THANK YOU TO VICKIE, HER HUSBAND, STAFF, AND WONDERFUL MEMBERS FOR MAKING US FEEL SO WELCOME AT YOUR HOLIDAY PARTY !! HOPE WE CAN COME BACK AGAIN IN THE NEAR FUTURE.
Hi Jeff, I just want to tell you how very wonderful everything has been at the Club. The cocktail party could not have been nicer. It was just a great holiday evening. The set up was super. The food was fabulous and the staff was terrific. The club looked so festive and inviting.

The ladies luncheon was so fun. Again, the food was just delicious, and everyone enjoyed the afternoon Thanks for all you, Vickie, and the staff do to make everything so nice for the rest of us. -
Bud & Patty Tibbits
BOB, SONNY & JIM
THE BOB LAFARY TRIO
HAPPY HOLIDAYS !
The party last night was very nice! The decorations were pretty, the band was great and the food was scrumptious! Everyone had a wonderful time.
Thank you!
Ginger Suarez
Bob and I would like to thank you for a beautiful and magical evening. The dining was superb as well as the decorations. The trio was
terrific. We were so pleased that this party was as great as previous holiday parties. A+ on all accounts!