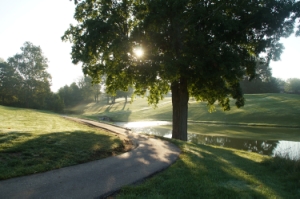 Par 4
366 yards
Short but demanding little par four, the beginning of the final four holes some refer to as "The Gauntlet" which has been the downfall of many a golfer arriving here with a good round going so far.

Most will elect to play less than a driver here to get to the 150, and a flat lie. More aggressive player may choose to hit it over the hill leaving a shorter approach, but from rough, if it stays out of the creek/hazard below. Stay left of all the trees down the right side either way. Going right will likely bounce down the hill and into the hazard. Beware the OB on the left off the tee.

The green is sloped right to left, can be quite fast, and can leave some interesting putts. Missing the green long makes for a very difficult up and down.